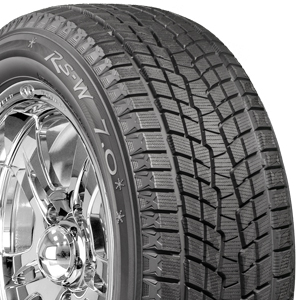 Available sizes : 16"
Available sizes : 17"
Available sizes : 18"
Available sizes : 19"
RS-W 7.0 - STARFIRE
Size : 23560R16
CV : 100T
Aspect : BW
* Delivery charges apply depending on your region.
Description
---
The special formulated soft tread compound allows the tread blocks to remain flexible in cold conditions to improve the ride comfort and performance meanwhile increase snow and ice surface traction and grip. The larger tread surface area provides more rubber to come in contact with the road for a stable footprint and great handling. More sipes in the tread lugs of this tire allow the tire to bite into the ice and snow to deliver exceptional grip and traction. Patented textured tread surface with fine raised lines provides extra traction and grip on ice.
| Specifications | |
| --- | --- |
| Manufacturer | STARFIRE |
| Model | RS-W 7.0 |
| Season | WINTER |
| Original equipment (OE) | N/A |
| Usage | Glace & Neige / Ice & Snow |
| Tread | Directionnel / Directional |
| Nail | N/A |
| 3 PMS | N/A |
| Durability | N/A |
| Noiseless | N/A |
| Ecological | N/A |
| Novelty | N/A |
| Best seller | |
| Warranty RH | N/A |