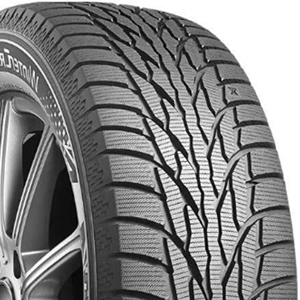 Available sizes : 15"
Available sizes : 16"
Available sizes : 17"
Available sizes : 18"
Available sizes : 19"
WINTERCRAFT WS51 - KUMHO
Size : 25565R17 • XL
CV : T
Aspect : BW
* Delivery charges apply depending on your region.
Description
---
The Kumho Wintercraft SUV ICE WS51 is the all new winter tire dedicated for SUVs and minivans. The tire is optimized and engineered for an excellent performance on snowy and icy roads. The center directional grooves improves water, slush and snow evacuation for a better stability, control and safety. It also improves better grip on snow to maximise traction. The large crystal like shoulders absorbs road noise to improve ride quality and efficiency.When braking, the Wintercraft SUV ICE WS51 improves traction performance on ice and snow due to its latest compound.
FEATURES
Rubber compound engineered using the latest technologies.
Tread optimised for increased stability and control.
Silent and Comfortable.
| Specifications | |
| --- | --- |
| Manufacturer | KUMHO |
| Model | WINTERCRAFT WS51 |
| Season | WINTER |
| Original equipment (OE) | N/A |
| Usage | Glace & Neige / Ice & Snow |
| Tread | Directionnel / Directional |
| Nail | N/A |
| 3 PMS | N/A |
| Durability | N/A |
| Noiseless | |
| Ecological | N/A |
| Novelty | |
| Best seller | N/A |
| Warranty RH | N/A |