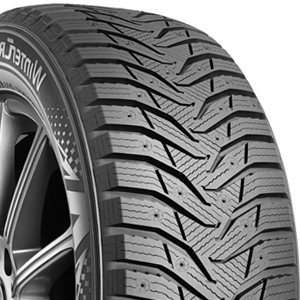 Available sizes : 16"
Available sizes : 17"
Available sizes : 18"
Available sizes : 19"
Available sizes : 20"
WINTERCRAFT WS31 - KUMHO
Size : 25555R18 • XL
CV : 109T
Aspect : BSW
* Delivery charges apply depending on your region.
Standard Limited Warranty
Description
---
The WinterCraft SUV ice WS31 provides excellent performance by optimal stud arrangement on icy and snowy roads. The WS31 features improved traction and braking performance through asymmetrical sipes, and better ice control performance by applying the latest compound mixing technology.
FEATURES
Optimized pattern design on SUV and crossover vehicles.
Application of 3D sipe to strengthen the block rigidity and handling/ ice braking performance.
Optimized groove to strengthen snow and wet performance.
Improved brake performance due to turbine blade quickly discharging dust and ice powder from stud.
| Specifications | |
| --- | --- |
| Manufacturer | KUMHO |
| Model | WINTERCRAFT WS31 |
| Season | WINTER |
| Original equipment (OE) | N/A |
| Usage | Glace & Neige / Ice & Snow |
| Tread | Directionnel / Directional |
| Nail | N/A |
| 3 PMS | N/A |
| Durability | N/A |
| Noiseless | N/A |
| Ecological | N/A |
| Novelty | |
| Best seller | N/A |
| Warranty RH | N/A |