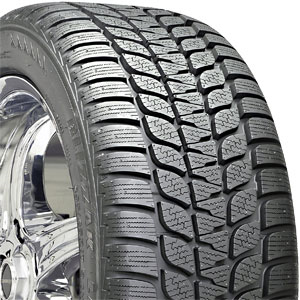 Available sizes : 16"
Available sizes : 17"
Available sizes : 18"
Available sizes : 19"
Available sizes : 20"
BLIZZAK LM-25 - BRIDGESTONE
Size : 25550R19 • RFT
CV : 107V
Aspect : BW
* Delivery charges apply depending on your region.
Standard Limited Warranty
Description
---
The Bridgestone Blizzak LM-25 RFT combines comfort with winter driving performance, offering reliable traction in snow and ice.
FEATURES
Zigzag sipes improves snow and ice traction by increasing the number of biting edges.
Wide straight groove enhances snow traction and water evacuation.
3D sipes enhances dry performance while maintaining snow, ice and wet traction.
Lens shape block reduces risk of hydroplaning.
Silica improves traction in wet conditions by increasing flexibility of tread compound.
| Specifications | |
| --- | --- |
| Manufacturer | BRIDGESTONE |
| Model | BLIZZAK LM-25 |
| Season | WINTER |
| Original equipment (OE) | N/A |
| Usage | Glace & Neige / Ice & Snow |
| Tread | Directionnel / Directional |
| Nail | N/A |
| 3 PMS | N/A |
| Durability | N/A |
| Noiseless | |
| Ecological | N/A |
| Novelty | N/A |
| Best seller | N/A |
| Warranty RH | N/A |